It was a cold, blowy day in Grecondale; not at all the right weather for June.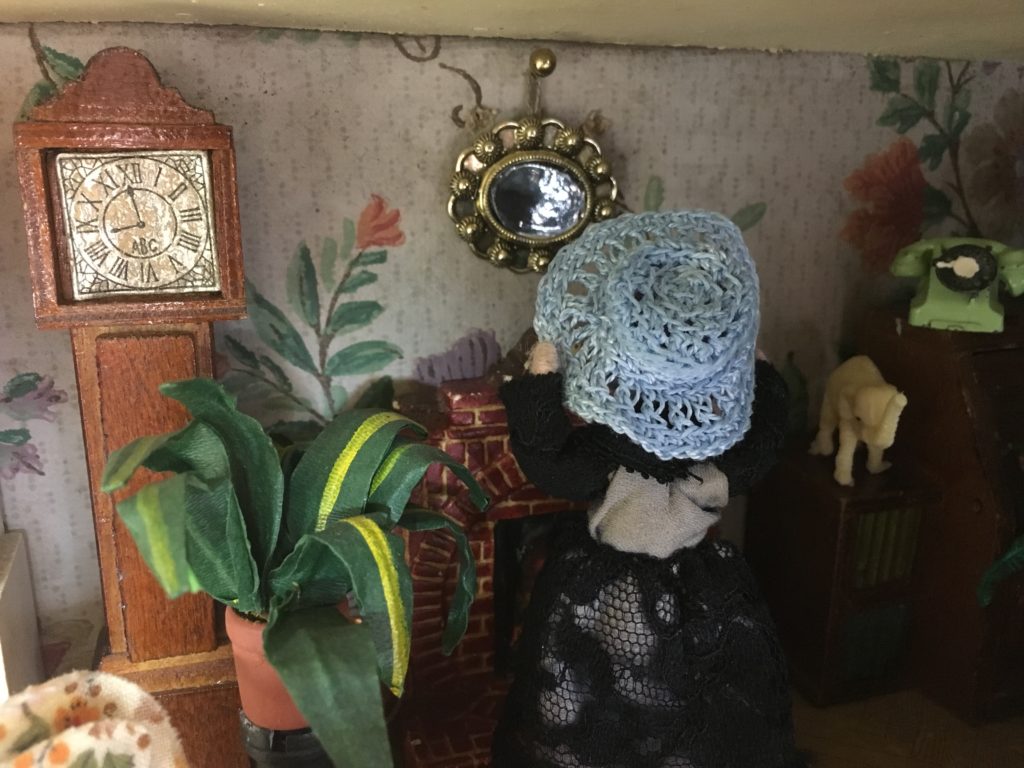 Ophelia adjusted her new hat in the mirror and, just for a moment, considered if it wasn't 'too much' for a simple trip to the tearoom for lunch?
But then she thought of the wise words that someone would one day write about wearing a hat:
You can put it on and say, "Hey you, person without a hat! I've got something you don't! How did I get it? Probably by being worth more to society."[*]
and, giving her reflection a firm nod of approval, she called Smokey to her side and set off gaily for the high street.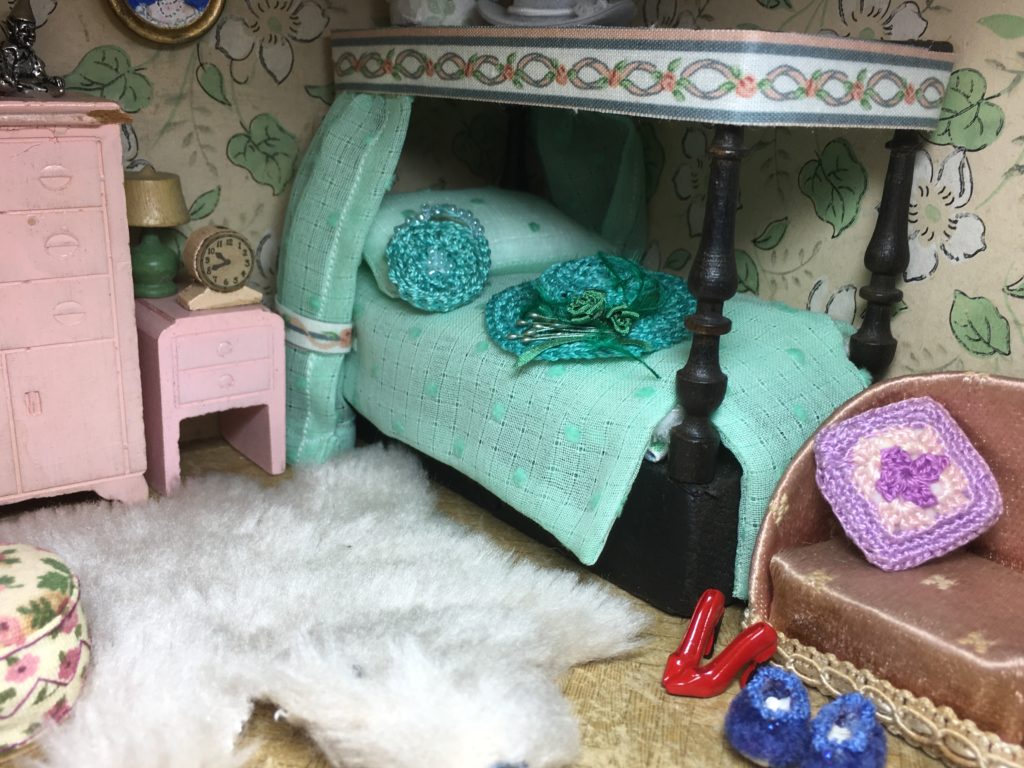 As she walked, Ophelia thought of the beautiful hat and matching handbag laid out on her bed at home.
Since it was a day for borrowing words that had yet to be written, she thought to herself:
Some hats can only be worn if you're willing to be jaunty, to set them at an angle and to walk beneath them with a spring in your stride as if you're only a step away from dancing. They demand a lot of you.[**]
Yes, she thought, the hat that she was planning to wear for the Chutney Wedding Anniversary celebration was certainly such a hat.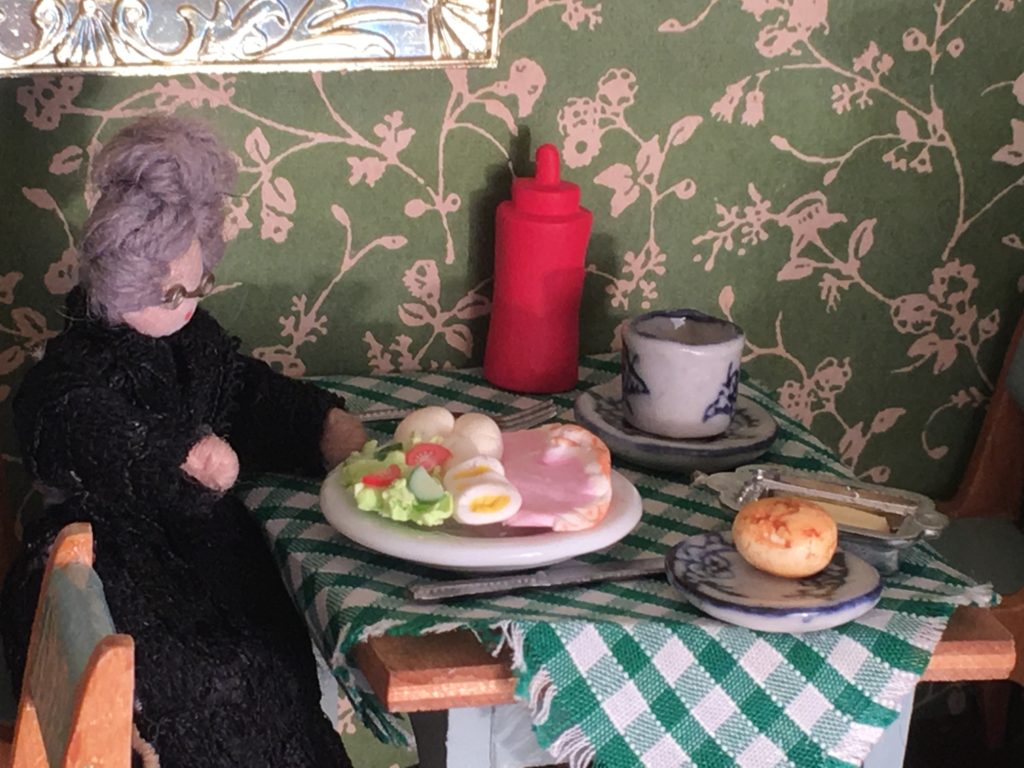 In the Wool and Wire Tearoom, Ophelia made herself comfortable at a table after carefully selecting a healthy ham and egg salad from the menu; she wasn't going to give that box of old battle-axes in Greconville the satisfaction of sniping about her figure.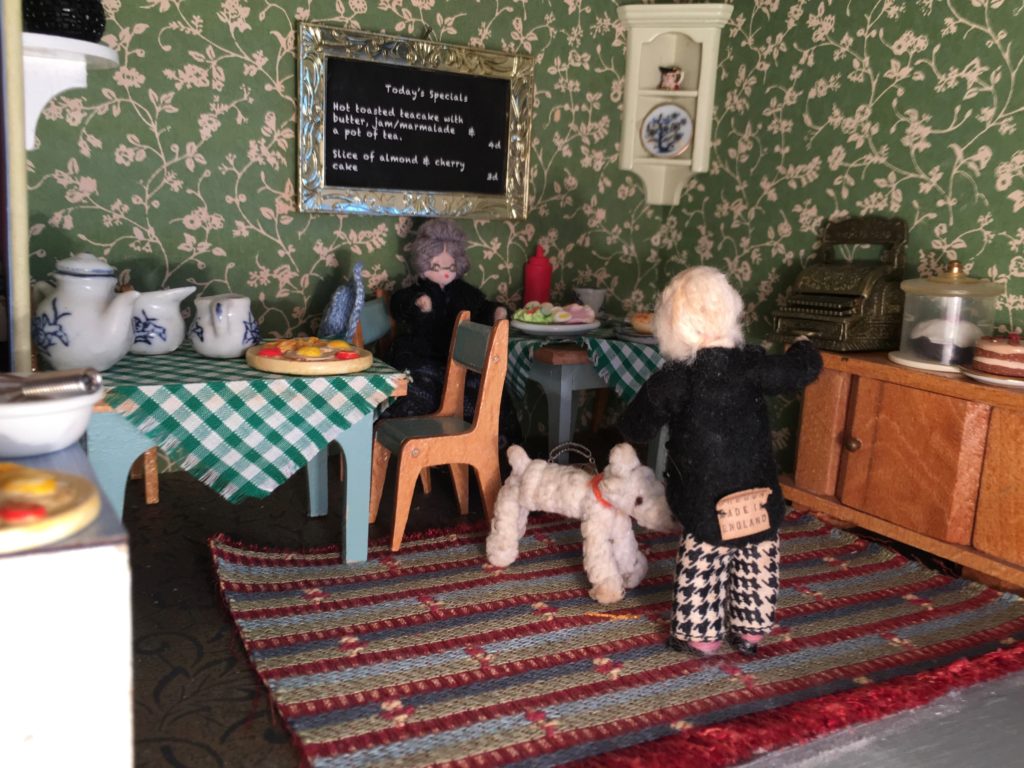 She had just eaten her first forkful of lettuce and had decided that perhaps she would have butter on her bread roll after all, when in walked Cedric.
Cedric teetered on his tiny feet as he waved a cheery hello to Ophelia; one day, she thought, the daft old codger would accept that he needed a walking stick.  "Room for a little one?"  he asked and Ophelia agreed readily – Cedric was just the man she'd hoped to bump into.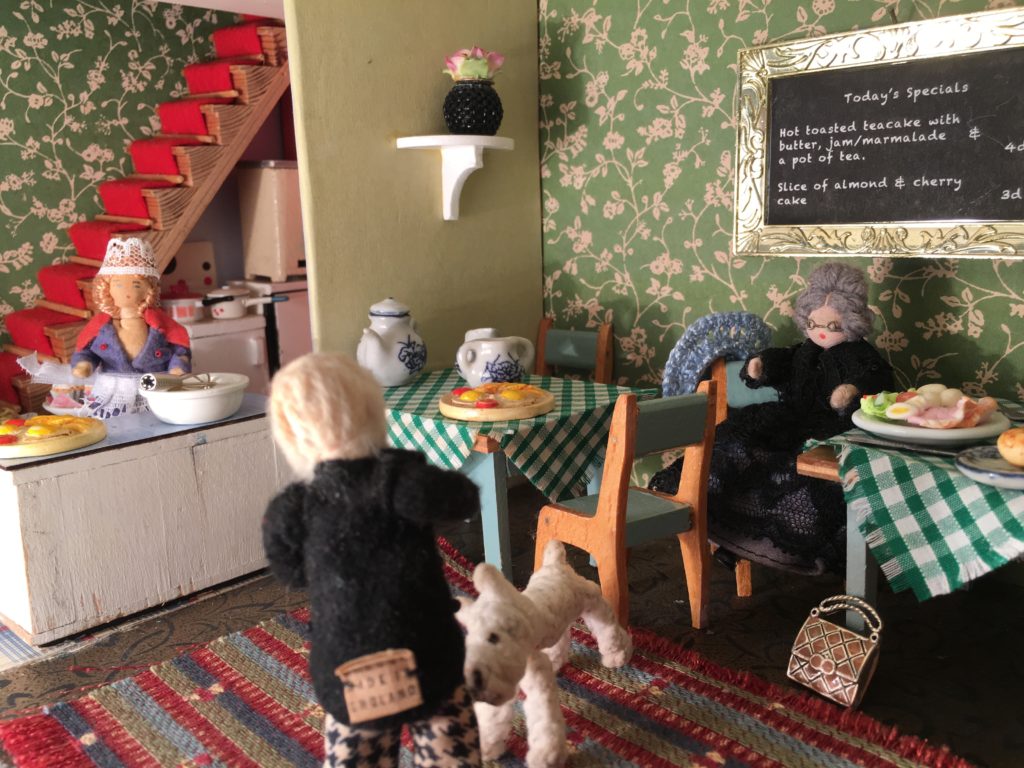 "Would you oblige me with one of your hot chocolate specials please, Doris my dear?" Cedric called over to the counter, "It'll be with you shortly," Doris replied frostily. Cedric winced.
Smokey sniffed Cedric's trousers and looked behind his legs for Growler, "Sorry, he's not here Old Boy," Cedric said quietly to the dog – Growler had been banned the previous week for sneaking sausages off the counter when his daughter's back was turned and she'd been furious – he was lucky not to have been banned himself.
"No, Smokey, Growler's not here, he's not a good boy like you", Doris interjected pointedly. Doris was well-practiced at eavesdropping on even the most private conversations in the tearoom.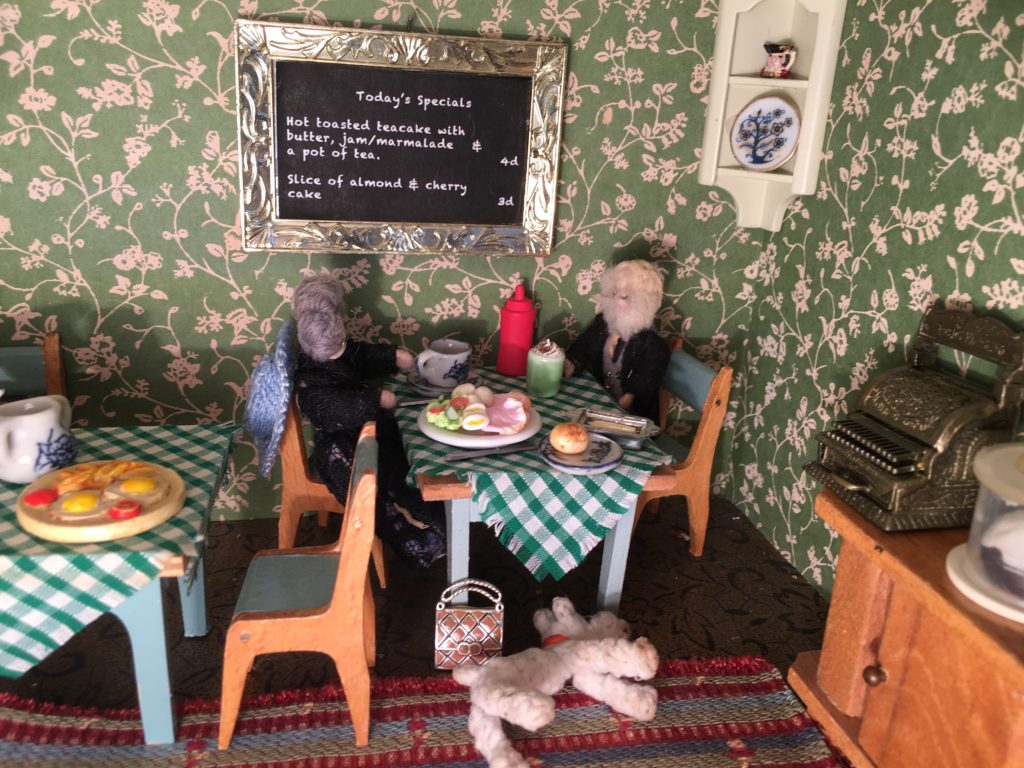 After Cedric's hot chocolate had been served, Ophelia got straight to the point.  "Have you and Isla received an invitation to the Chutney wedding anniversary celebration?" she asked.
Cedric, who had just taken a sip from his mug, spluttered. Stalling for time, he made much of getting out his handkerchief  and wiping away the blobs of whipped cream that had attached themselves to his ample beard.
Eventually he answered cautiously, "I really don't think we'll be getting an invite to that, my dear," he said. "What? Why on earth not?" said Ophelia, startled out of grammar.
"Well," Cedric picked his way carefully through the minefield that was his mind at that moment, "Sir Thomas and I had a small business venture going for a little while and I'm afraid that, in the end, we didn't see entirely eye to eye.  It rather muddied the waters between us I'm afraid," he ended firmly, wondering if he'd gotten away with this distorted and heavily abridged version of the truth.
But he needn't have worried as Ophelia's thoughts had raced ahead,"Oh well, never mind, I'm sure Rabbie and Joyce will accompany me," she said happily, "Now how is that monstrously malcontent young wife of yours?" she asked laughingly, as if what she'd said was funny.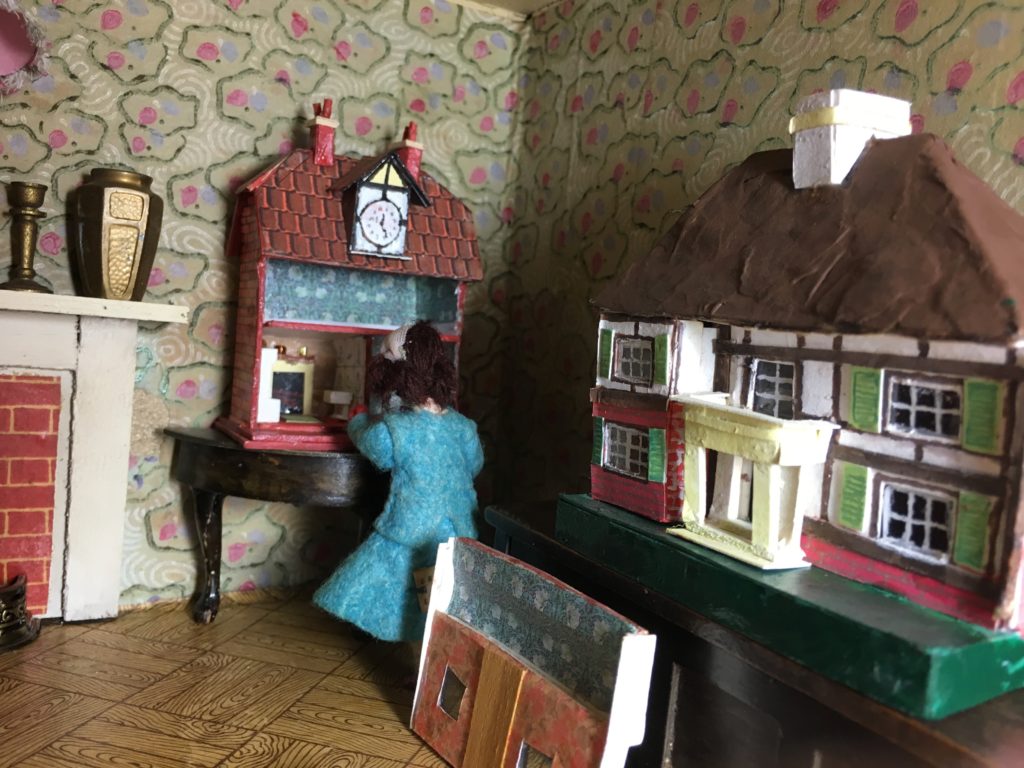 Cedric thought of Isla – he'd left her with her head in one of her precious dolls' houses. He knew this to be her place of solace when she was struggling to deal with her full-size world.  She was indeed a malcontent, but she was his malcontent and she meant the world to him. If he could have waved a magic wand and made her happy he would. Alas, he had realised long ago that he had no such powers.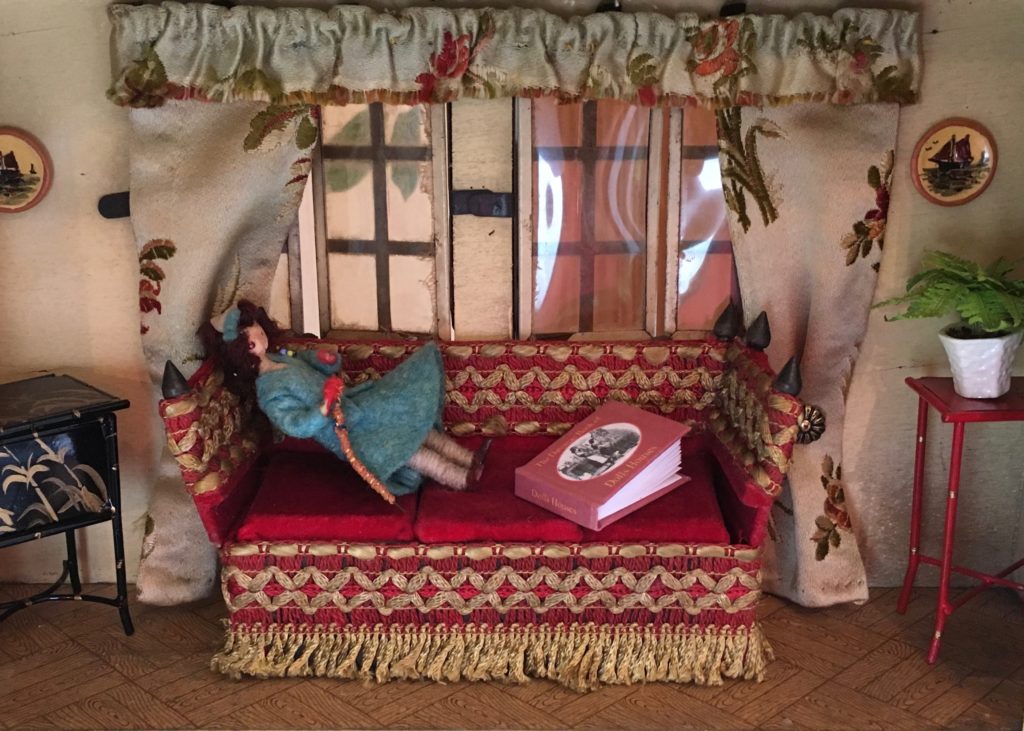 And if fact, at that very moment, as Opleia and Cedric finished off lunch and hot chocolate respectively, Isla was languishing on the sofa in her newly-installed bay boudoir.
She too had heard rumours that Thomas and his floozy of a wife were going to be hosting what was already being referred to as the 'Celebration of the Season' – pretending that their marriage was a bed of roses and parading their precious children around like trophies.
Oh it was to much to contemplate, she thought and it was lucky that Cedric had gone out earlier because suddenly she could hold back no more. At first her shoulders began to shake, then her whole body joined in and she let out a wail as she wept inconsolably for the loss of her one chance to ever be Lady Chutney.
The End
*Alice LeGrow
**Neil Gaiman, Anansi Boys
© 2017, Zoe. All rights reserved.